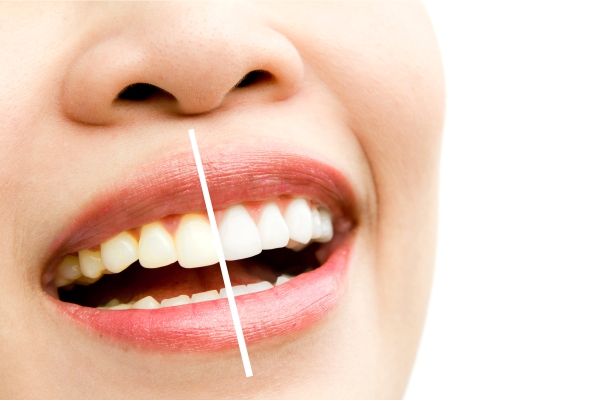 A bright, white smile can have a significant impact on a person's overall appearance and confidence. It is often considered a symbol of youth, health, and attractiveness. When someone has a beautiful smile, it can enhance their facial features, make them appear more approachable, and boost their self-esteem. Here are some key reasons why a bright, white smile is important:
Enhances Aesthetics: A smile is one of the first things people notice when they meet someone. A bright, white smile can instantly create a positive impression, making a person more visually appealing and attractive.
Boosts Self-Confidence: When you have a smile that you're proud of, it naturally boosts your self-confidence. You feel more comfortable expressing yourself, engaging in social interactions, and smiling without hesitation.
Radiates Youthfulness: As we age, our teeth tend to darken and lose their natural brightness. A white smile can make you appear younger and more vibrant, reversing the signs of aging and giving you a more youthful appearance.
Improves Professional Image: In professional settings, a confident and attractive smile can make a positive impact. It can help in job interviews, client meetings, and networking events by conveying a sense of professionalism, trustworthiness, and competence.
Enhances Personal Relationships: A bright smile can improve personal relationships by making you feel more confident and approachable. It can also make others feel more comfortable and drawn to your positive energy.
Culprits of Teeth Discoloration: Common Stains and Discoloration Triggers
Teeth discoloration is a common dental concern that affects many individuals. It refers to the change in the natural color of teeth, making them appear yellow, brown, or even grayish. While teeth are naturally off-white or slightly yellow, various factors can contribute to discoloration, leading to a less desirable appearance. Understanding the causes and types of teeth discoloration can help in addressing and preventing this issue effectively.
Extrinsic Stains: These are stains on the outer layer of the tooth, known as enamel, caused by external factors such as food and beverages, tobacco use, and poor oral hygiene habits. Common culprits include coffee, tea, red wine, dark-colored fruits, and certain spices.
Intrinsic Stains: Intrinsic stains occur within the tooth structure, affecting the underlying dentin layer. These stains can result from factors like tooth trauma, certain medications (such as tetracycline during tooth development), excessive fluoride intake, or genetics.
Age-Related Discoloration: As we age, the enamel layer naturally wears down, revealing the yellowish dentin beneath. This age-related discoloration is a gradual process and is influenced by both intrinsic and extrinsic factors.
Achieving Dazzling Results: A Closer Look at the Professional Process
It is a popular cosmetic dental procedure that can effectively brighten and enhance the appearance of teeth. It is typically performed by a dental professional in a dental office setting. Here is an overview of the professional teeth whitening process:
Dental Examination: Before proceeding with teeth whitening, your dentist will thoroughly examine your oral health. This includes checking for any existing dental issues, such as cavities or gum disease, that may need to be addressed prior to the whitening treatment. 
Shade Assessment: The dentist will assess the current shade of your teeth using a shade guide. This helps in determining the baseline color of your teeth and provides a reference point to track the whitening progress.
Protective Measures: To protect your gums and other soft tissues, a protective barrier or a rubber shield is applied to prevent the whitening gel from coming into contact with them.
Whitening Gel Application: A professional-grade whitening gel containing hydrogen peroxide or carbamide peroxide is applied to the teeth. The concentration of the whitening agent may vary depending on the specific brand or system used by the dentist.
Activation: In some cases, a special light or laser may be used to activate the whitening gel and accelerate the whitening process. The light or laser helps to break down the stains on the teeth and enhance the effectiveness of the whitening gel.
Reapplication and Monitoring: The whitening gel is typically left on the teeth for a specified period, usually around 15 to 30 minutes. Depending on the desired results, the gel may be reapplied multiple times during the session. The dentist closely monitors the whitening progress throughout the procedure.
Rinse and Evaluation: Once the desired level of whitening is achieved, the dentist will rinse off the whitening gel from your teeth. They will then evaluate the results to determine if any further touch-ups or additional sessions are needed to achieve the desired shade.
Post-Whitening Instructions: After the whitening procedure, your dentist will provide you with post-whitening care instructions. This may include avoiding certain foods and beverages that can stain the teeth, practicing good oral hygiene, and scheduling regular dental cleanings to maintain the results.
Maintaining Your Pearly Whites: Aftercare and Maintenance for Whitened Teeth
After undergoing a professional tooth whitening treatment, it is essential to follow proper aftercare and maintenance to prolong the results and maintain a bright, white smile. Here are some tips for post-whitening care:
Avoid Staining Foods and Beverages: To prevent new stains from forming on your teeth, it is advisable to avoid or minimize the consumption of staining foods and beverages. This includes coffee, tea, red wine, berries, tomato sauce, and dark-colored sodas. If you do consume these items, rinse your mouth with water afterward or brush your teeth to minimize the staining effects.
Practice Good Oral Hygiene: Maintaining a consistent oral hygiene routine is crucial for preserving the whiteness of your teeth. Brush your teeth at least twice a day with a soft-bristled toothbrush and fluoride toothpaste. Additionally, floss daily to remove plaque and food particles from between the teeth.
Use Whitening Toothpaste: Consider using a whitening toothpaste that is specifically formulated to help maintain and enhance the results of your teeth whitening treatment. These kinds of toothpaste contain mild abrasives and gentle whitening agents that can help remove surface stains and prevent new ones from forming. 
Avoid Tobacco Products: Smoking or using other tobacco products can quickly stain your teeth and compromise the results of your teeth whitening treatment. Quitting tobacco not only benefits your oral health but also improves your overall well-being.
Schedule Regular Dental Check-ups and Cleanings: Regular dental check-ups and cleanings are vital for maintaining good oral health and monitoring the condition of your teeth. Your dentist can assess the longevity of your whitening results and provide touch-up treatments if needed.
Consider Touch-up Treatments: Over time, the natural aging process and daily activities can cause teeth to gradually darken. To keep your smile looking its best, you may want to consider periodic touch-up treatments to refresh and maintain the whiteness of your teeth. Consult with your dentist to determine the ideal frequency of touch-up treatments based on your individual needs.