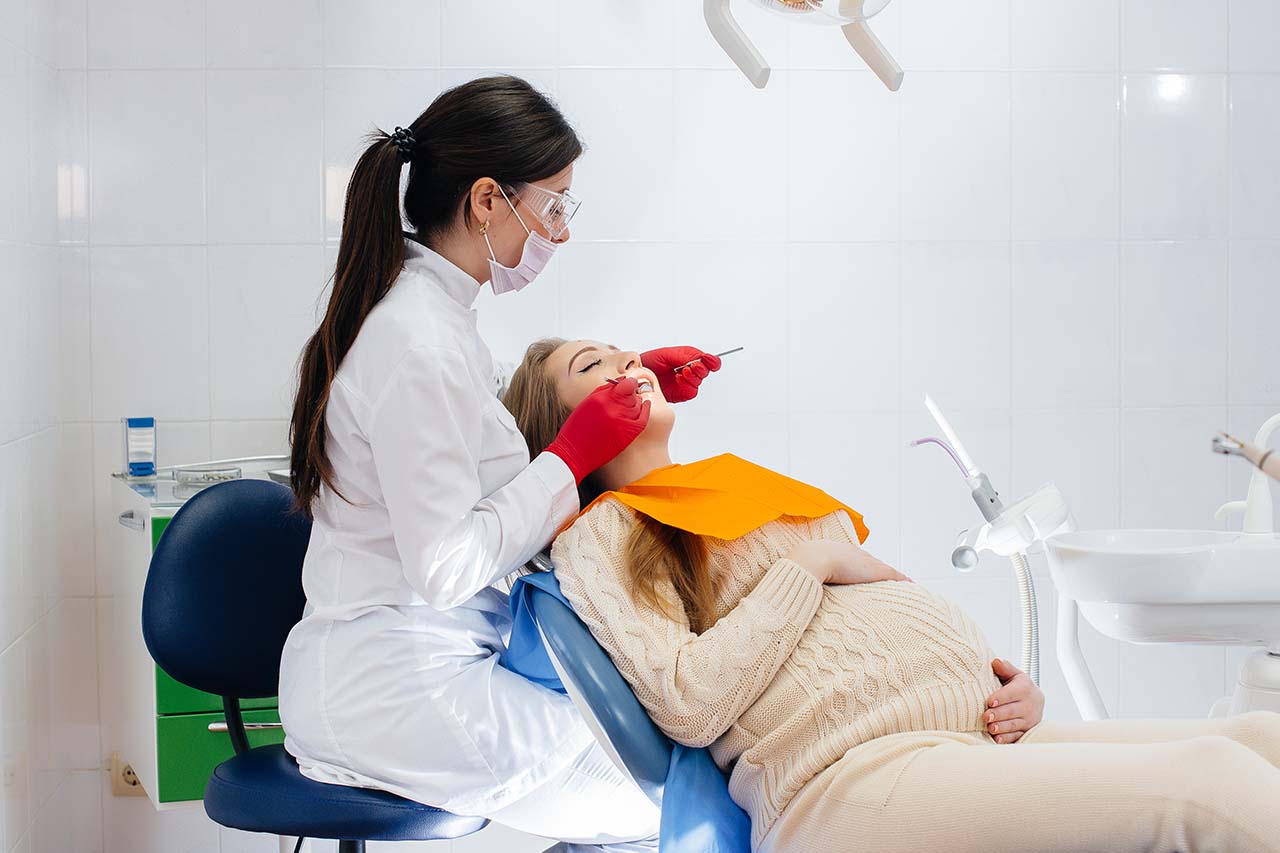 Nurturing Two Smiles: Why Oral Health Matters in Pregnancy
Maintaining good oral health during pregnancy is crucial for both the mother and the developing baby. Pregnancy brings about hormonal changes that can increase the risk of dental problems, making it essential for expectant mothers to prioritize their oral health. Here are some key reasons why oral health is important during pregnancy:
Gum Disease Prevention: Pregnancy hormones can make the gums more sensitive and prone to inflammation, leading to a condition called pregnancy gingivitis. If left untreated, gum disease can progress and potentially affect the overall health of the mother and the baby.
Pregnancy Complications Prevention: Research suggests a link between gum disease and certain pregnancy complications, including preterm birth and low birth weight. By maintaining good oral hygiene and seeking timely dental care, expectant mothers can reduce the risk of these adverse outcomes.
Dental Treatment Safety: Addressing any dental issues before or during pregnancy is essential for the mother's well-being. However, it's important to communicate with both the dentist and obstetrician to ensure that any necessary treatments are safe for the expectant mother and the developing baby.
Nutritional Support: Good oral health enables expectant mothers to maintain a balanced diet, which is crucial for the health and development of the baby. Healthy teeth and gums facilitate proper chewing and digestion, allowing for optimal nutrient absorption.
Positive Overall Well-being: Pregnancy can already bring about various physical and emotional changes. By maintaining good oral health, expectant mothers can reduce the risk of dental discomfort and promote positive overall well-being throughout their pregnancy journey. 
Dental Care Precautions during Pregnancy
Pregnancy is an important time to prioritize oral health as hormonal changes and increased blood flow can affect the gums and teeth. Here are some dental care precautions to consider during pregnancy:
Inform Your Dentist: As soon as you find out you're pregnant, inform your dentist. They can provide specific guidance and ensure that any necessary treatments or procedures are safe for you and your baby.
Schedule a Dental Check-up: It is recommended to have a dental check-up early in your pregnancy to assess your oral health and address any existing issues. This is also an opportunity to discuss any concerns or questions you may have with your dentist.
Practice Good Oral Hygiene: Maintain a consistent oral hygiene routine by brushing your teeth at least twice a day with fluoride toothpaste and flossing daily. Pay attention to your gum line and be gentle while brushing to avoid irritating sensitive gums. 
Use a Soft-bristled Toothbrush: Switch to a soft-bristled toothbrush during pregnancy to minimize gum irritation and bleeding. This will help clean your teeth effectively while being gentle on your gums.
Manage Morning Sickness: If you experience morning sickness or vomiting, rinse your mouth with water or a fluoridated mouthwash afterward to help neutralize stomach acids. Avoid brushing your teeth immediately after vomiting as the stomach acids can soften the tooth enamel, making it more susceptible to damage.
Maintain a Healthy Diet: Eat a balanced diet rich in fruits, vegetables, and dairy products to provide essential nutrients for your oral health and the development of your baby's teeth and bones. Limit sugary snacks and beverages, as they can increase the risk of tooth decay.
Stay Hydrated: Drinking plenty of water helps maintain good oral health and prevents dry mouth, a condition common during pregnancy. A dry mouth can increase the risk of tooth decay, so keep a water bottle handy and stay hydrated throughout the day. 
Avoid Dental X-rays: While routine dental X-rays are generally safe, it is recommended to avoid unnecessary X-rays during pregnancy unless necessary. If an X-ray is required, your dentist will take appropriate precautions to ensure your safety and minimize radiation exposure.
Consider Dental Treatments: Non-emergency dental treatments are generally postponed until after the first trimester. However, if you have a dental emergency, such as severe pain or infection, it is important to seek immediate dental care to prevent any potential harm to you or your baby.
Continue Regular Dental Check-ups: Maintain regular dental check-ups throughout your pregnancy, as recommended by your dentist. These visits allow for monitoring of your oral health, professional cleaning, and early detection of any issues that may arise.
As a new mom, your focus may be primarily on caring for your baby, but it's important not to neglect your own oral health. Oral care plays a crucial role in maintaining your overall well-being. By scheduling a dental check-up, practicing good oral hygiene, watching your diet, and staying hydrated, you can promote a healthy smile and reduce the risk of dental problems. Remember, taking care of yourself is essential to being the best mom you can be. So, carve out a little time each day for your oral health, and enjoy the beautiful journey of motherhood with a bright and healthy smile.
Leave a Reply