Dedicated professionals, our team constantly seeks opportunities to continue our education in order to support our patients' needs now and for the future. We are loyal to the practice and our patients and share a commitment to providing the highest quality care and personal service.
Together, our team ensures a professional, stable, and comforting environment, so our patients feel at ease during their appointments. We are here to help and are pleased to be of service to our community.
---
Kerry
Registered Dental Hygienist
I enjoy helping people live healthier lives and building long-term relationships in the process. I perform thorough gum and oral health assessments and review patient medical history at each appointment to ensure we are providing optimal care for each patient's oral health needs and overall wellness. I also provide preventive and maintenance care for patients to decrease their risks of gum disease, bone loss, and decay creating value of optimal care of the oral cavity relating to the person's overall wellness. Additionally, I teach patients about homecare and how to maintain healthy teeth, for life. As with our doctors and my coworkers, I want patients to feel supported, educated, and motivated to care for their smiles!
Dance is my favorite pastime. I am involved in many different dance styles and participate in two dance teams. I also love to travel, especially internationally, and am an animal lover. Right now, I have an exotic mixed cat who I adore.
---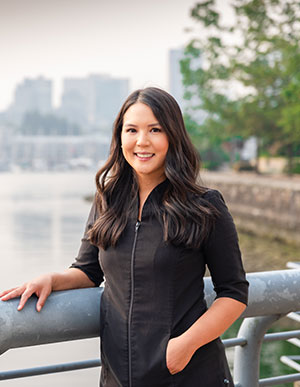 Sharon
Registered Dental Hygienist
I provide thorough but gentle cleanings and like to work with my patients in order to help them be as comfortable as possible during their appointment with me. I love to play a part in improving my patient's understanding and care of their oral health. My role includes educating my patients about their unique oral health concerns and the steps they can take to keep their teeth and gums healthy and happy. I work collaboratively with my patients to improve their oral health in ways that work best for their lifestyles. One of the most rewarding parts of my career is the process of building that trust and rapport with my patients as one of their healthcare providers.
I was born and raised in Vancouver. In my spare time, I love to travel, hike and most of all enjoy amazing food.
---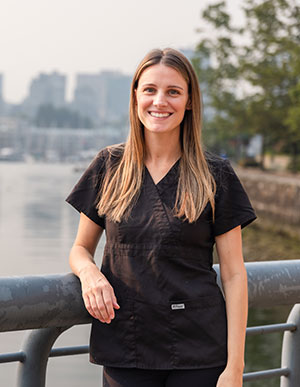 Amanda
Certified Dental Assistant
I love being able to help people feel comfortable at the dental office. Working in our clinic, I seat patients, answer questions about treatment, and assist the doctors with different dental procedures. Our doctors are skilled and gentle, and I like seeing how they help even nervous patients relax and feel secure. When a person feels safe, then they are able to take better care of their dental health and can enjoy beautiful smiles!
Born and raised in Richmond, BC, I currently live in Vancouver with my wonderful son and husband. I love playing sports – golf, softball, volleyball – and traveling whenever I can. My favourite place I have ever traveled to is Mount Kilimanjaro in Tanzania.
---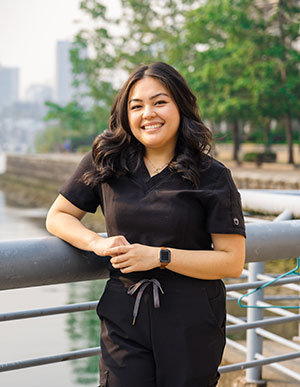 Danica
Certified Dental Assistant
At Marinaside Dental, I provide patient care and ensure patients are comfortable during their procedures. I truly enjoy being able to teach patients how to properly take care of their oral health for beautiful smiles. As a recent graduate from Vancouver Community College, it's been wonderful to learn so much from our very knowledgeable team. They have also been so welcoming to me since I'm the newest addition to the team.
I enjoy hiking and kayaking whenever the weather is nice. I also love cooking, baking, playing the ukulele, and singing! For full relaxation mode, I'll stay at home with a good movie or another re-run of Friends. When I'm not at the clinic, I also keep busy as a barista at Starbucks.
---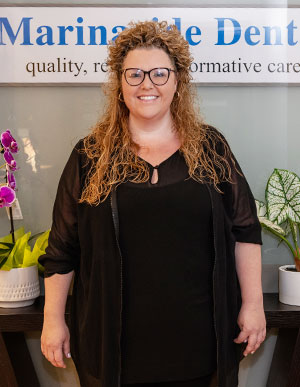 Serena
Office Admin
I have been working at Marinaside for over a decade. I am loyal to the team and patients. I oversee the administrative aspects of Marinaside Dental, focusing on delivering quality and attentive customer service. Working at the front desk I welcome patients as they arrive, assist with paperwork, and answer questions about financials and other matters. I am also our treatment coordinator, reviewing the plan with patients. It feels good to ensure patients have the information needed to make the right decisions about their dental care!
I love hanging out with my Daughter, being outside is one of our favorite past times. My Family and friends are a big part of my life.
---